Classen PRO Sod Cutter
Get the most out of cutting sod with the Classen HSC18 PRO Sod Cutter. The most compact, maneuverable, versatile sod cutter EVER! With a hydrostatic drive for smooth powered forward and reverse, you'll get the most done in the least amount of time with significantly less vibration.
Short unit length and integrated rear swivel wheel make the PRO Hydro-Hrive Sod Cutter the most compact and maneuverable sod cutter in the industry!
Fastest transport speed in the industry, up to 4.7 mph, and powered reverse.
Advanced vibration dampening system for operator comfort – Innovative cam design means less vibration than ever!
Improved user-friendly controls for ease-of-operation
2-Year Warranty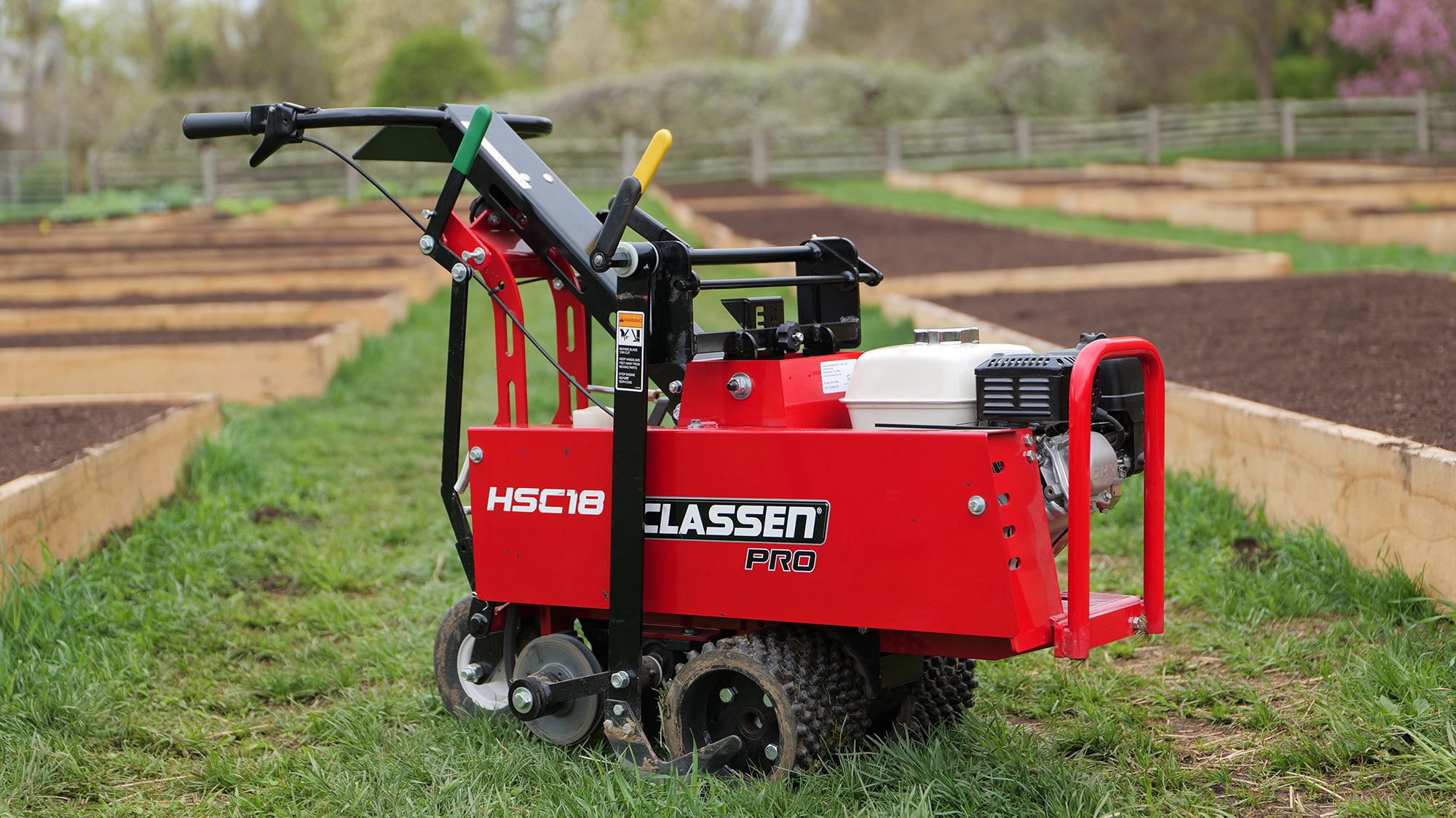 PRO Hydro-Drive Sod Cutter Common Specifications
| | |
| --- | --- |
| Transmission | Hydrostatic |
| Standard Cutting Width, in (cm) | 18 (46) |
| *Max Cutting Depth, in (cm) | 2.5 (6.4) |
| Blade Speed, SPM | 1200 |
| Optional Blade Assemblies, in (cm) | 12,16,20 (30,41,51) |
| Front Wheels, in (cm) | 8 (20.3) |
| Front Wheels Style | Knobby Molded Rubber |
| Rear Wheels, in (cm) | 9x3.5-4 (22.9x8.9-10.2) |
| Rear Wheels Style | Semi Pneumatic |
| Dimensions LxWxH, in (cm) | 55.5x24.5x37 (141x62x94) |
| Dry Weight, lbs (kg) | 340 (154) |
| Warranty** | 2 years |
| *Dependent upon installed blade assembly | **engines warranted separately |
Classen PRO Hydro-Drive Sod Cutter Features
Choice of Honda® GX160 or Honda® GX240 engine
Hydrostatic drive for a smooth, consistent power flow up to 4.7mph and powered reverse.
Six rubber isolation mounts absorb vibration for increased operator comfort.
Comes standard with an 18" cutting blade. Optional 12", 16", 20" and 24" blade assemblies

(24" blade for use with Honda® GX240 engine model only)

Integrated throttle/clutch control on handle for simple operation; goes idle and stops machine movement when released.
Blade placed at center of machine ensures a more consistent cutting depth. Adjusts to cut sod up to 2.5" deep.
Cutting blade makes 20 cutting strokes per second / 1200 per minute. Yields cleaner, smoother results, and increased sod-cutting productivity. 1-3/8" cutting stroke is up to 50% longer than competitive models.
Knobby tread drive wheels ensure better traction and eliminate dirt build-up.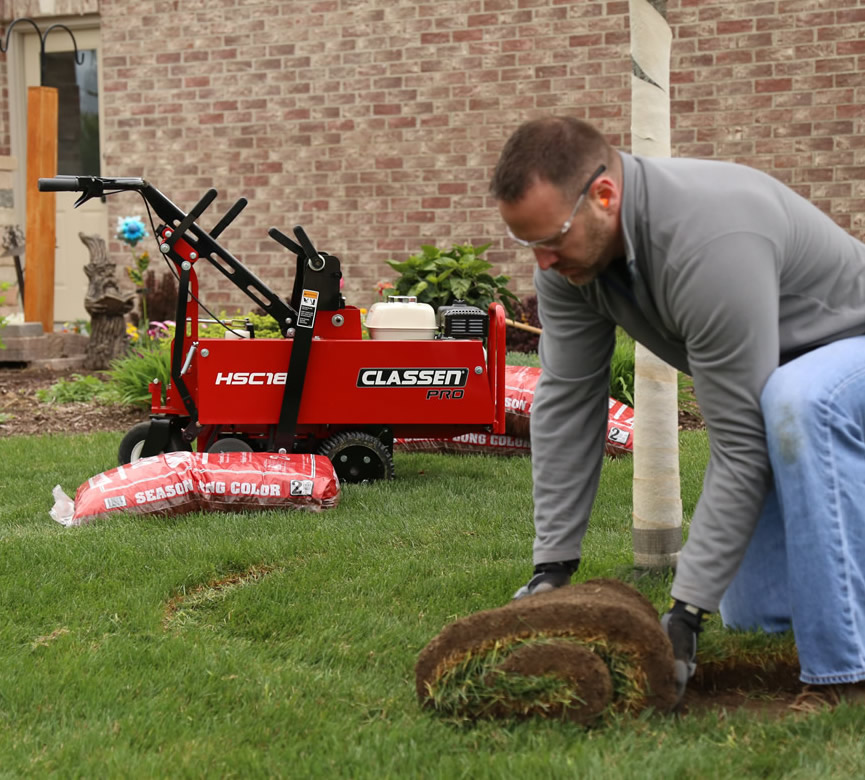 HSC18A5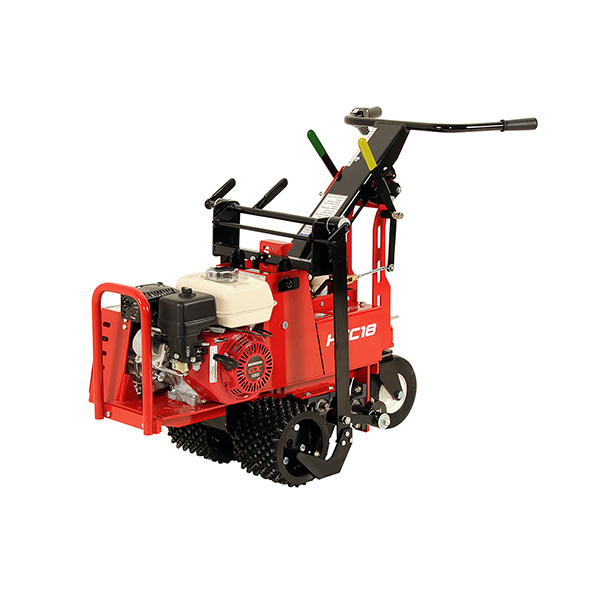 | | |
| --- | --- |
| Model | HSC-18A5 |
| Engine | Honda GX160 |
| Fuel Capacity, gal (l) | 0.8 (3) |
| | |
| --- | --- |
| Transmission | Hydrostatic |
| Standard Cutting Width, in (cm) | 18 (46) |
| *Max Cutting Depth, in (cm) | 2.5 (6.4) |
| Blade Speed, SPM | 1200 |
| Optional Blade Assemblies, in (cm) | 12,16,20 (30,41,51) |
| Front Wheels, in (cm) | 8 (20.3) |
| Front Wheels Style | Knobby Molded Rubber |
| Rear Wheels, in (cm) | 9x3.5-4 (22.9x8.9-10.2) |
| Rear Wheels Style | Semi Pneumatic |
| Dimensions LxWxH, in (cm) | 55.5x24.5x37 (141x62x94) |
| Dry Weight, lbs (kg) | 340 (154) |
| Warranty** | 2 years |
| *Dependent upon installed blade assembly | **engines warranted separately |
HSC18A8
| | |
| --- | --- |
| Model | HSC-18A8 |
| Engine | Honda GX240 |
| Fuel Capacity, gal (l) | 1.4 (5.3) |
| | |
| --- | --- |
| Transmission | Hydrostatic |
| Standard Cutting Width, in (cm) | 18 (46) |
| *Max Cutting Depth, in (cm) | 2.5 (6.4) |
| Blade Speed, SPM | 1200 |
| Optional Blade Assemblies, in (cm) | 12,16,20 (30,41,51) |
| Front Wheels, in (cm) | 8 (20.3) |
| Front Wheels Style | Knobby Molded Rubber |
| Rear Wheels, in (cm) | 9x3.5-4 (22.9x8.9-10.2) |
| Rear Wheels Style | Semi Pneumatic |
| Dimensions LxWxH, in (cm) | 55.5x24.5x37 (141x62x94) |
| Dry Weight, lbs (kg) | 340 (154) |
| Warranty** | 2 years |
| *Dependent upon installed blade assembly | **engines warranted separately |