Step up to the Classen PRO Stand-Aer® Aerator
Three times faster than a walk-behind aerator and the best Quality of Core® in the aeration industry. The Classen Pro Stand-Aer pulls 10% more cores than the nearest competitive stand-on aerator. Cover up to two-and-a-quarter acres per hour at ground speeds of up to seven miles per hour.
A stand-on aerator that is three times more productive than a walk-behind aerator
True zero-turn maneuverability at up to 7.4 mph
Best Quality of Core®
Flip-up Platform
Automatic Chain Tensioner
2-Year Warranty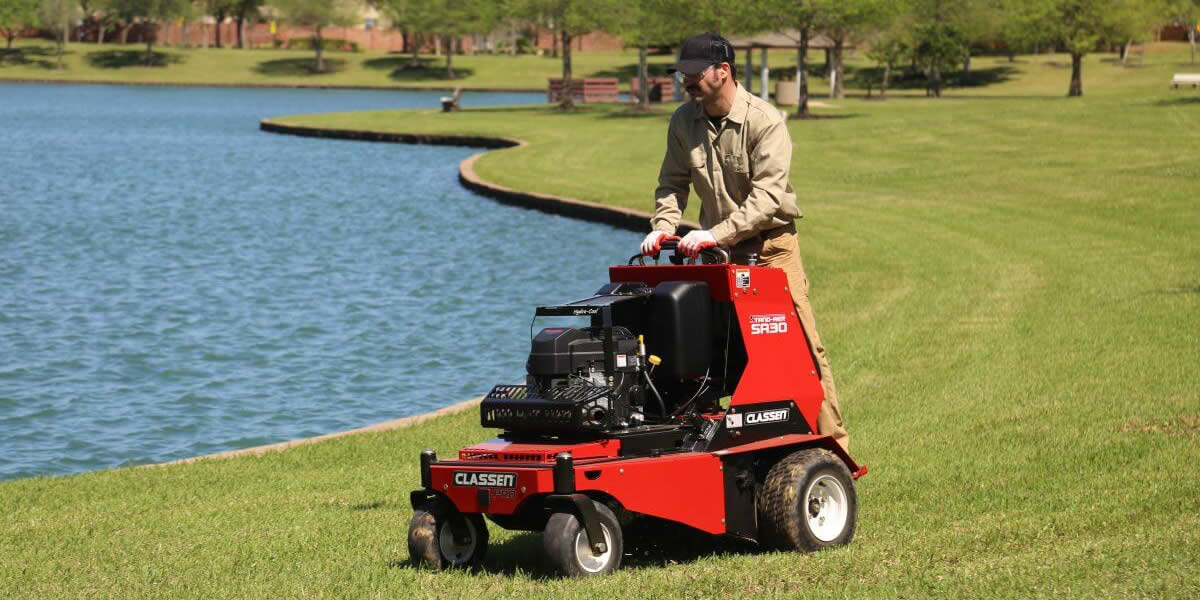 PRO Stand-Aer® Specifications
| | |
| --- | --- |
| Model | SA-30A |
| Engine | Kawasaki® FS541V |
| Transmission | Hydrostatic |
| Fuel Capacity, gal (l) | 5 (19) |
| Max Speed Fwd / Rev, mph (km/h) | 7 (11.3) / 3.5 (5.6) |
| Aerating Width, in (cm) | 30 (76.2) |
| Max Aerating Depth, in (cm) | 5 (12.7) |
| Number of Tines | 48 |
| Core diameter, in (cm | 0.75 (1.9) |
| Hole Pattern, in (cm) | 3.8x7 (9.6x17.8) |
| Holes, sq ft (sq m) | 5.1 (0.5) |
| Max Productivity/HR, ft2 (m2) | > 87,120 (8,094) |
| Front Wheels, in (cm) | 13x5.0-6 (33.0x12.7-15.2) |
| Front Wheels Style | Pneumatic |
| Rear Wheels, in (cm) | 18x6.5-8 (45.7x16.5-20.3) |
| Rear Wheels Style | Pneumatic |
| Dimensions LxWxH, in (cm) | 60.5x47.3x48 (154x120x122) |
| Dry Weight, lbs (kg) | 1,235 (560) |
| Warranty** | 2 years |
| *Dependent upon installed blade assembly | **engines warranted separately |
Stand-On Aerator Features
15 HP Kawasaki® FS541V engine with 5-gallon fuel capacity
Dual Hydro-Gear® ZT3200 transaxles

Exclusive Hydra-Cool™ System keeps transaxles running cool all-day

Zero-turn agility, 7.4 mph forward/3.5 mph reverse
Best Quality of Core

Tighter hole pattern than leading stand-on

Pulls 10% more cores per sq. ft.

Unique automatic chain tensioning system eliminates manual adjustment of the drive chain
Exclusive tine depth stop locks in core depth from 2" to 5"
Fast tine engagement; simple thumb switch control

Raise and lower tines 27% faster than leading stand-on

Shock absorbent and gripped rider platform
Large 18" Grass Master Tread Drive Tires

Gentle on turf, tallest on curbs (6" curb clearance)

Flip-up platform enables stand-on aerator to be used as a walk-behind aerator and decreases amount of space needed on trailers
Ergonomic controls similar to stand-on mower
Integrated rear jack stands lift the unit two inches for easy access tine maintenance and cleaning
Optional Light Kit accessory illuminates work area when you run out of daylight
PRO Stand-Aer® Accessories
Light Kit
P/N: 970599
Powerful dual LED lights illuminate the work area
Comes pre-assembled for fast easy installation
Quickly and easily mounts above the hydraulic cooler
Includes battery lead
Spyker® Electric Spreader Attachment
P/N: 970640
Spyker® 120 lb. capacity spreader with Variable Speed Control ergonomically mounted within arm's reach. Spread swath of up to 16 feet.
Electric motor is mounted outside of the large hopper for ease of material loading.
Projects enhanced spread coverage while maintaining perfect equilibrium using the on-the-fly AccuWay™ adjustment cable. AccuWay™ adjusts material flow forward or backward, allowing operator to maintain a perfectly balanced spread pattern, no matter the chosen material.
Mounting kit is custom designed to fit on the Classen PRO Stand-Aer aerator for easy and accurate installation. No cutting, drilling or fabrication needed to secure the attachment.